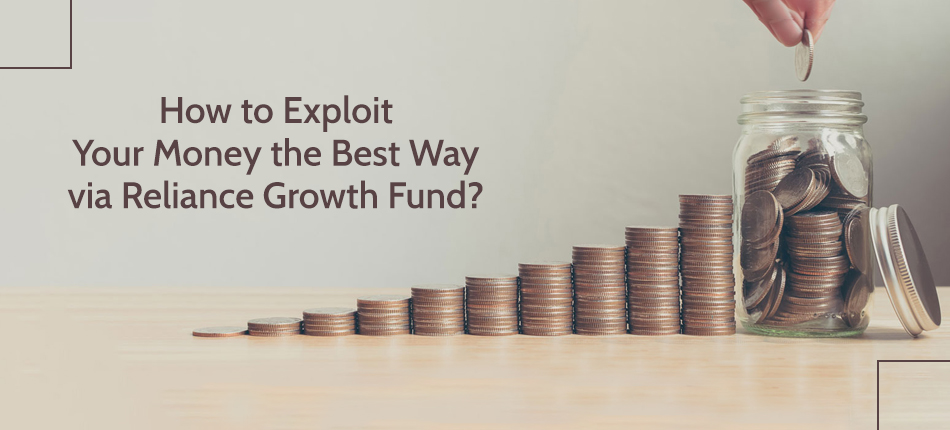 You might have seen a lot of advertisements on mutual funds on the TV, internet and possibly on building hoardings. But did you ever see an advertisement specifically for any fund? Nope, you didn't. And it is not possible for any fund house to advertise about any of its funds. Do you know why? Because the market is a dynamic place and the fund which is performing well today, may not perform at the same level in the near future.
Hence, the articles, like the one written down here, are your only hope and scope to know about great funds, such as Reliance Growth Fund, in their entirety. The word 'great' is obviously a very overly used but underrated word, since anything that marks beyond the average gets awarded with this prefix. For instance, 'Great Job', 'Great Film', 'Great Food', etc. But, mind that the word prefixed here may not do justice to the noun added after it. But, as a matter of fact, Reliance Growth Fund is indeed great and the reasons are written just below.
Consider this article as your torch in the cave of mutual fund industry, which is going to guide you at every step of making a solid investment plan. As you will progress with every line of this article and eventually when you'll hit the dead end, you'll have gathered a basketful of knowledge about Reliance Growth Fund G. So, get glued to your computer screen and read it till the end.
About the Fund
Reliance Growth Fund (Growth) is a mid-cap fund. It was started way back in 1995 by Reliance Mutual Fund, one of the most widely recognised brand in mutual fund investing. The main aim of the fund is to create a value based portfolio by incorporating equity and related instruments as well as debt and money market instruments. The investment is initiated on the grounds of research based investment approach that allows the fund to incorporate only those stocks which are healthier and have high energy to earn returns. Although the fund has been rated as relatively higher on the Riskometer, but its powerful investment strategy doesn't let the risk to overflow beyond the point of danger.
The Opportunities
Reliance Growth Fund – Regular Plan (Growth) is a favourable option for earning high returns in the long term. The fund has given remarkable yields in the market in the past five years, and is also growing at a marvellous pace. The last six months was the best period for the fund's growth in the last three years, since it gained a sharp altitude in comparison to the benchmark S&P BSE Mid Cap TRI. With an average of 22.75% returns since inception in the category of mid cap funds, Reliance Growth Fund stars as one of the best paying midcaps in the Indian mutual fund industry.
The Benefits
Reliance Growth Fund (G) is an epitome of high value investment and your ticket to a successful investment. It's diverse and high energy portfolio allows several benefits to flow in, some of which are written below: -
High Growth Possibilities

Mid cap stocks are well known for their power to grow in the market. They involve those companies that haven't achieved their peak yet, and are still moving at a high pace to conquer the pinnacle. Since Reliance Growth Fund G consists of high energy mid cap stocks of some of the best companies in the market, its portfolio is assorted with high growth potential in the future and thus allows handsome opportunities for growth to investors.

Risk Cover

Reliance Growth Fund is a pure equity mid cap fund, with over 97% of investment in equity and related instruments. This, of course, exposes the portfolio to a high risk environment, and thus, can add to the volatility of the portfolio. But, the fund, being an offspring of Reliance Mutual Fund, enjoys several benefits which funds of smaller brands can only dream of. The fund is backed up by one of the most prominent fund management teams in India, thus acknowledging that the risk stays under control and doesn't hurt the portfolio's calibre to earn high returns. This makes the overall investment healthy, and doesn't let the adversities wound the earning strength of the fund.

Diversification

Reliance Growth Fund is a pool of energy and has the power to propel the returns earning process. Hence, it lets you add the flavour of diversification in a risk-covered portfolio, as one cannot rely simply on safe investments to score success in mutual funds.
So, if your objective is to earn good returns and accomplish your financial goals, then you must draw your attention toward investing in Reliance Growth Fund (Growth).
The article talks about the advantages and features of Reliance Growth Fund.
Author's Bio:
Dishika does content writing for MySIPonline. She also holds vast experience in tax consultancy and accounting.