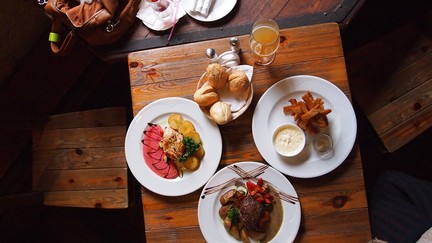 Accepting credit cards and providing delivery services are only two ways to remain in business. Take the work further by analyzing the reasons for success in the restaurant industry. The average person has hundreds of choices available, so think about what your competitors are doing and why your business should be equally successful. Review these tips to help you keep the door open for your restaurant.
Discounts and Promotions
Many customers actively look for ways to save money. They choose restaurants that provide discounts over those that do not provide any. On the restaurant website, offer promotions to get people interested in specials and new items on your menu. Host a regular schedule of events, such as car shows and live entertainment that attract both new and loyal customers.
Reduced Portions
Provide half or reduced portions to diners who are careful about their food intakes. For each popular food item, provide a reduced serving amount at a smaller price. This option appeals to people who are concerned about their weight and those who want to save money. Give them the buffet-style option of trying out different food items.
Convenience
Customers choose restaurants that are convenient and easy to work with. Some people want home deliveries, while others want online ordering. Look for every way to increase convenience for your patrons in order to remain competitive with other restaurant owners. Consider using technologies that eliminate long lines. Some restaurants have kiosks that patrons use to order faster and easier.
Walk in Freezers and Coolers
Food spoils quickly in the restaurant industry, especially when you use coolers with faulty doors and parts. Keep your food fresh and provide enough room for workers to move around. For an expanding business, upgrade to a larger freezer or cooler with more storage space.
Upgrade to walk in freezers and coolers that provide the greatest amount of space. Browse a wide range of selections from online companies like Commercial Kitchens that include customizable features. Choose a specific size, temperature range and material to fit the look of your restaurant.
Cooking and serving food to random people seems like an easy profit. However, most businesses fail before the second year. People have more options than ever before, so it's becoming harder to compete with other restaurants and stay on top. With the right amount of dedication, every restaurant owner can turn an idea into a real life success.
Author's Bio:
Lizzie Weakley is a freelance writer from Columbus, Ohio. She went to college at The Ohio State University where she studied communications. In her free time, she enjoys the outdoors and long walks in the park with her 3-year-old husky Snowball.