The work of a surgical technologist (also known as operating room technicians) is to work alongside physicians, surgeons, nurses, and other health-care workers as part of the health-care team. Their tasks include the preparation of operating rooms before surgery, sterilization of surgical instruments, arranging instruments and equipment for surgical procedures, and preparing the patients for surgery. Assisting the surgeon by handing instruments during the procedure, counting supplies to ensure removal of all foreign bodies from inside the patient as well as maintaining a sterile environment to promote proper healing of the patient, also falls under the responsibility of a surgical technologist.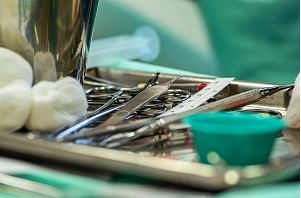 They may also clean and bandage the incision site and help transfer the patient after completion of the operation. This job requires high stamina and dexterity of hands. It is a stressful job that needs years of clinical practice to master, and work shifts may last eight hours or more. Surgical technicians may have to work during weekends, evenings, and even holidays, depending on the work required.
The path to becoming a surgical technologist
To become a surgical technologist, one must take the following two steps:
1. The first is to complete an Associate's Degree program. A high school diploma (or GED) is a requirement for acceptance into this program. An Associate's Degree takes two years, and you will also need to complete a general education and science studies course. At City College in Florida, surgical technology training has become a popular choice among new students since it's a two-year Associate's Degree program instead of a full four-year degree.
2. After successfully receiving a CAAHEP-accredited surgical technician degree, the second step is to take the Certified Surgical Technologist exam (CST) issued by the NBSTSA (National Board of Surgical Technology and Surgical Assisting).
Course subjects
The subjects required to become a surgical technician include anatomy, physiology, pharmacology as well as knowledge of medical terminology and bioethics. Core subjects also include fundamentals of surgical technology, microbiology, surgical procedures, and surgical techniques. Surgical technologists need at least one to two years of clinical training in order to get a job. Many programs provide this surgical training as an internship that starts with observing senior surgical technicians. Later on in the program, the students are taught how to operate equipment in the operating theater, and it also includes a rotation in surgical wards such as dental, vascular, and orthopedic wards. This is necessary since bookish knowledge alone is not enough to prepare the students for the stressful environment of the operation theatres and emergencies. This internship is followed by a test that assesses the student's knowledge of patient safety, sterilization procedures, prevention, and control of infection.
Career paths for a surgical technologist
A 9% rise in employment rates of surgical technologists was predicted by the BLS for the years 2018 to 2028. This shows that surgical technology is a growing field with great potential for job opportunities. The main reason for this was seen to be the increased life expectancy of older individuals, which often leads to more surgeries and, therefore, more jobs. A degree in this field can lead to multiple career options, including:
Surgical Assistant
A career as a surgical assistant holds the immense responsibility of assisting with surgeries. This includes proper positioning of the patient preoperatively, and they may also assist in putting the patient under anesthesia. During the operation, the surgical assistant works under constant supervision of the head surgeon and helps the surgeon in tasks such as removing gauze pieces, securing instruments and helps clean and bandage wounds after surgery. Transfer of patients and monitoring to prevent complications also falls under their responsibility. After certification, one also has to pass the Certified Surgical First Assistant exam.
Medical Device Representatives
A surgical technologist may opt to work in a pharmaceutical career as a medical device representative. Since surgical technologists learn the features and operations of medical and surgical equipment, this becomes a viable career option for them. They work as sales experts who represent their company's medical devices and cater to hospitals, clinics, nursing homes, surgical centers, and physicians, etc. Other jobs that a surgical technologist can have with their skill set are as follows: Ambulatory surgical centers, hospital surgical suites, physician's offices, and specialty surgical clinics.
How much do surgical technologists earn?
In 2020, the average annual salary for a surgical technologist was calculated to be $54,078 per year in the United States of America. However, this amount may vary with State, location, and size of the hospital or company. Surgical technologists are most commonly sought in general medical and surgical hospitals, physician's offices, outpatient care centers, and dental clinics. On the other hand, jobs that pay surgical technologists the most include medical and diagnostic laboratories, employment services (which help hire out surgical technicians to hospitals that either require such employees or lack sufficient in-house staff), other ambulatory health care services as well as colleges, universities, and professional schools.
Scientific advances have made safer surgeries possible with the help of better machines and equipment. With the progress of medical sciences, more surgical technologists are required to keep up with the new technology. Surgical technology is a vast and ever-growing field that not only keeps pace with the developing world but also works alongside doctors and nurses as health-care providers in saving patient's lives.
Author's Bio:
Hannah is professional writer who loves to research of unique topics and express her thoughts by content writing.